HONORARY COLONEL OF THE STATE OF ALABAMA

UNITED STATES SPECIAL CONGRESSIONAL RECOGNITIONS (2014 AND 2017) AND FROM CALIFORNIA SENATE (2014)

HRH Prince Gharios El Chemor of Ghassan Al-Nu'Man VIII receiving United States Special Congressional Recognition and also from Senate (California) from the hands of the Her Excellency Congresswoman and US Ambassador Diane Watson, PhD (ret.)

DRAGOMANOV MEDAL OF EUROPEAN COMMUNICATION BY THE UKRAINIAN MINISTRY OF EDUCATION THROUGH THE DRAGOMANOV UNIVERSITY
Dedication AND BLESSING from Monsignor Georg Ratzinger, brother of HH Pope Emeritus Benedict XVI

BLESSING AND DEDICATION FROM

HIS BEATITUDE GREGORIOS III - THE MELKITE PATRIARCH

RECOGNITION FROM JORDANIAN MINISTER DR NADIA HASHEM

BLESSING AND DEDICATION FROM HIS HOLINESS CATHOLICOS ARAM I THE ARMENIAN ORTHODOX PATRIARCH OF CILICIA
AWARD BY THE GOVERNOR OF IRBID PROVINCE

(KINGDOM OF JORDAN)


LETTER FROM HIS EXCELLENCY MSGR. MAROUN LAHHAM

ARCHBISHOP OF JORDAN and Patriarchal vicar

HONORARY PRESIDENT OF THE LEBANESE CULTURAL ASSOCIATION

OF CAMPOS (BRAZIL) RECOGNIZED BY THE LEBANESE GOVERNMENT

APOSTOLIC BLESSING FROM HIS MOST REVEREND MOUSSA EL HAGE

MARONITE ARCHBISHOP OF THE HOLY LAND

uNITED nATIONS PEACE CORPS MEDAL OF SUEZ (unef) AND CAPTAIN MANUEL THEODORO DE ALMEIDA BATISTA MEDAL (BRAZIL-PARAGUAY WAR HERO)

21st International Cultural Award Trentino-Abruzzo Alto Adige" (Italian Government) "History Category" (the first Arab writer to receive IT)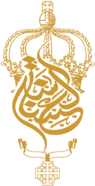 AWARDS FROM THE BRAZILIAN GOVERNMENT

Translation:
STATE SENATE OF THE STATE OF PARANA [Brazil]
"MOTION"
The executive board of the State Senate of the state of Parana [Brazil], for proposition of the illustrious Congressman Ney Leprevost, and approved by the scholarly plenary, have reports written in the annals of this house of laws, vows of praise and congratulations to Prince Gharios of Ghassan, of the Sovereign Imperial and Royal house of Ghassan, for 3 years of activities in Brazil and abroad, in the philanthropic and cultural field.
Curitiba, December 18, 2012.
(signed) Ney Leprevost - State Senator

HIRH receiving the "Pilgrim's Shell" as a Knight of the Equestrian Order of the Holy Sepulchre of Jerusalem from HE Msgr William Shomali Bishop and Vicar for Jerusalem for the Latin Patriarchate acting on behalf of the Latin Patriarch of Jerusalem and Grand Prior of the Order

The title is the highest honor given to a person not currently living in Arkansas. Commissions are given by the Governor and the Secretary of State to individuals in recognition of noteworthy accomplishments. Notable Arkansas Travelers: US Presidents Franklin D. Roosevelt, Ronald Reagan and Donald Trump. Maya Angelou, Garth Brooks, Bob Hope and Gene Autry, Steve Forbes, Billy Graham, etc.

Honorary Member of CHILDCARE & fAMILY cHARITY Society

(Jordanian Royal FamilY CHARITY)

Translation:
MUNICIPALITY OF CURITIBA (Brazil)
The Municipality of Curitiba honors Prince Gharios of Ghassan, consigning on the minutes of its proceedings, by requirement of the City-Councilor JORGE BERNARDI, vows of congratulations and applause for the outstanding services rendered to the society.
White River Palace, 17 of May 2013.
(signed) Jorge Bernardi - City-Councilor
(signed) City - Councilor Paulo Salamuni - President

The President's Call to Service Award is awarded by the President of the United States to people who have completed more than 4,000 hours of community service. It is the highest level of the President's Volunteer Service Award.It was established through a 2003 executive order by President George W. Bush. HRH Prince Gharios El Chemor was honored by President Obama in 2010 and recently by President Trump.

Translation:

"Prince Gharios of Ghassan with my best wishes and blessings

8. June 2015,

Georg Ratzinger"

US President's Lifetime Achievement Award for Volunteer Service (2010 AND 2017)

GODWILL AMBASSADOR OF THE STATE OF ARKANSAS (ARKANSAS TRAVELER AWARD)

NOBLE MAN OF THE YEAR 2014 G.O.D.

AT THE UNITED NATIONS HEADQUARTERS

H I S R O Y A L H I G H N E S S
Kentucky colonel is the highest title of honor bestowed by the Commonwealth of the state of Kentucky. Commissions for Kentucky colonels are given by the Governor and the Secretary of State to individuals in recognition of noteworthy accomplishments and outstanding service to a community, state or the nation. Famous Kentucky Colonels: Saint (Pope) John Paul II, Elvis Presley, Frank Sinatra, George Clooney, Johnny Depp, Fred Astaire, Muhammad Ali (Cassius Clay), Bing Crosby, etc.

LETTER OF RECOGNITION FROM THE PRESIDENT OF ALBANIA

Certificate issued by the Vatican Secretary of State recognizing Prince Gharios as as a Knight of the Equestrian Order of the Holy Sepulchre of Jerusalem, one of the oldest, most recognized and respected Orders of Chivalry in the world. The Order is under protection of HH Pope Francis as its Sovereign. This honor of knighthood is conferred by the Holy See through the Secretariat of State, who in the name of and by the authority of the Pope, approves each knighthood. Each diploma of appointment once approved is sealed and signed by officials of the Vatican Secretariat of State and the Cardinal Grand Master of the Order in Rome. HH Pope Benedict XIV (reigned 1740-1758) stated that the Order should enjoy precedence over all Orders except over the Order of the Golden Fleece.

Middle East Peace Crusader 2015 SAMEAWS

by His Highness Sheikh Juma bin Maktoum Al Maktoum from the Royal Family of Dubai

AWARD GIVEN BY THE ARAMAIC NGO 'WE ARE CHRISTIANS' (GERMANY)

AWARD BY THE Ministry of Education

(KINGDOM OF Jordan)

KNIGHT OF HONOR OF THE BROTHERHOOD OF THE HOLY CHALICE

OF VALENCIA (SPAIN)

AWARD GIVEN BY THE NOTREDAME UNIVERSITY INTERNATIONAL FILM FESTIVAL (LEBANON)

BLESSING & thank you letter from his holiness tawadros ii

THE COPTIC POPE OF ALEXANDRIA

KNIGHT OF THE EQUESTRIAN ORDER OF THE HOLY SEPULCHER OF JERUSALEM

Alnuman Gharios El Chemor

Commendation from the State of Georgia (USA) House of Representatives Black Caucus

PATRIARCHAL BLESSING FROM HIS ALL HOLINESS BARTHOLOMEW I

THE ECUMENICAL PATRIARCH OF CONSTANTINOPLE

Member of Honor of the Balear Institute of History (KINGDOM OF SPAIN)

AWARD GIVEN BY THE BASMA SCHOOL OF SPECIAL EDUCATION (KINGDOM OF JORDAN)